The consequences of Anbumani Ramadoss Questions about Jai Bhim.
Actor Suriya Replayed That. A few Days Ago PMK's Anbumani Ramadoss Expresses he disagree with Jai Bhim and Wrote a Letter to actor Suriya to replay his Question's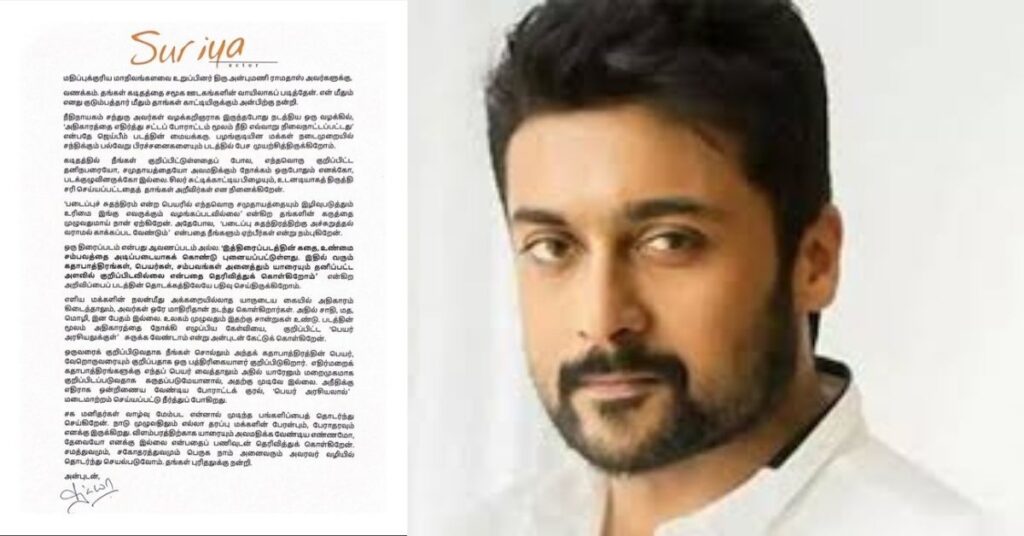 What did actor Surya say about this?
Greetings to Mr. Anbumani Ramadas, Member of the State Council. I read their letter via social media. Thank you for the love they have shown for me and my family.
The focus of Jaybeam is on how justice was upheld through a legal battle against power in a case filed by Justice Chandru when he was their lawyer.
We have tried to talk in the film about the various problems that tribal people face in practice. As you mentioned in the letter, it is never the intention of me or the crew to insult any particular individual or community.
I think they are aware of the error that some have pointed out and corrected immediately. I totally agree with their view that 'no one here is given the right to denigrate any society in the name of creative freedom'. Similarly, I hope you will agree that 'creative freedom must be protected from threats'.
A film is not a documentary. 'The story of this film is based on a true incident. We would like to inform you that the characters, names, and incidents in it are not mentioned personally at the beginning of the film.
Even if power is in the hands of someone who does not care about the welfare of the common people, they behave the same way. There is no caste, religion, language, or race. There is evidence of this all over the world.
I kindly ask that the question raised towards power by the film not be abbreviated within the particular 'name politics'. A journalist mentions that the name of the character you are referring to refers to someone else. If any name is given to the negative characters and it is assumed that someone is implicitly referring to it, there is no end to it.
The voice of struggle to unite against injustice is being disguised and diluted by 'name politics'. I will continue to do my best to improve the lives of my fellow human beings. I have the greatness and great support of people from all walks of life across the country.
I humbly state that I have no intention or need of insulting anyone for publicity. We will all continue to work in His way to promote equality and brotherhood. Thanks for your understanding.
Thus actor Surya has responded to Dr. Anbumani Ramadoss in his statement.
More Today
A person with social responsibility involves in journalism trying to show the world's reality without partiality at your wisdom. trying to fight against the ignorance of the people. interested in providing useful stuff