EARLY LIFE
He was Born on 17 March 1975, Chennai in Tamil Nadu, His Father was a very big Star in Kannada, Singanalluru Puttaswamaiah Muthura Better Known As Dr. Rajkumar, He is Tamil Nadu Origin Every One in Tamil Nadu Knows that Rajkumar was the one who Kidnaped by Veerappan for Demanding Kannada government For Water issue. Puneeth Rajkumar is his 5th child.
Now The Child Known as Appu, Indian actor, playback singer, television presenter, and producer who worked primarily in Kannada cinema. He was a lead actor in 29 films; as a child, he appeared in many films.
He Started his Carrier an early age as a Child Actor After a Lot Of Hard Work Now He Become a Top Star in Kannada Film Industry.
LEGACY OF PUNEETH RAJKUMAR FILM
Puneeth Rajkumar has won 5 awards – Filmfare Award – Kannada in 2016, Filmfare Award – Kannada in 2012, Filmfare Award – Kannada in 2007, National Award in 1985, and Filmfare Award South in 1986.

He was seen in superhit films including 'Abhi', 'Veera Kannadiga', 'Mourya', 'Aakash' and 'Milana'. Undoubtedly, he was a 'Power Star' in every way. Puneeth Rajkumar was one of the highest-paid actors in the South film industry. His fans gave him the title 'Power Star', for which he was grateful.
Puneeth is said to command nearly 2.07 Crore INR per movie. Highest by any Kannada actor. Puneeth is the only actor so far who has managed to give 10 plus consecutive hit movies that ran successfully for 100+ days. Puneeth's movie Milana was a blockbuster hit & did run successfully for one year in most multiplexes in Bengaluru. Apart from this, Puneeth also starred in "Vamshi ", which again was a major box office hit.
OFF-SCREEN SERVICES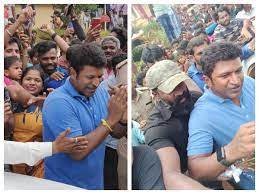 Last year donated Rs 50 lakh to the CM Relief Fund to help the state in its fight against Covid-19. The year before, he donated Rs 5 lakh to the Chief Minister's Natural Calamity Relief Fund to aid North Karnataka flood victims suffering in unprecedented floods. And He Has Old Age Homes Educating a lot of Children's Service Foundations. He Did a lot of Good Stuffs Without Expectation while Other Actors did pieces of stuff with intention.
IN THE END
It's Really a Short Journey For Being a Human-Like him, We are all Going To End This Journey One day But, In The End, The Question is How Many Heart you won?
This Doesn't Even Matter For Him. Even Death He is still living in billion's of Heart.
On 29th October Puneeth Rajkumar has been working out in the gym and he had a mild heart attack and very soon he was admitted to Vikram Hospital but he passed away at the age of 46.
He also Donated His Eyes Now That helped 4 people to back in their vision.
Now the Tamil Actor Vishal Takes the Education Fees Of 1800 Students, Instead of Puneeth Rajkumar.

The conclusion is "No one is permanent, do good kinds of stuff till you die for live forever"
A person with more than 5 years of experience in the field of news, a very talented writer