New employment has been announced at Kolkata ESIC Hospital. This job is notable for Engagement Of Junior Resident Jobs.
What is the qualification for this job and how much space is allotted for those belonging to any class. Also, read the article carefully on our website to know all the additional information about this.
The date of this ESIC Hospital Recruitment interview is given below. Further details on what documents are required for this are clearly provided in this web article.
We hope you enjoy the extension of service. For more information, visit the official website below.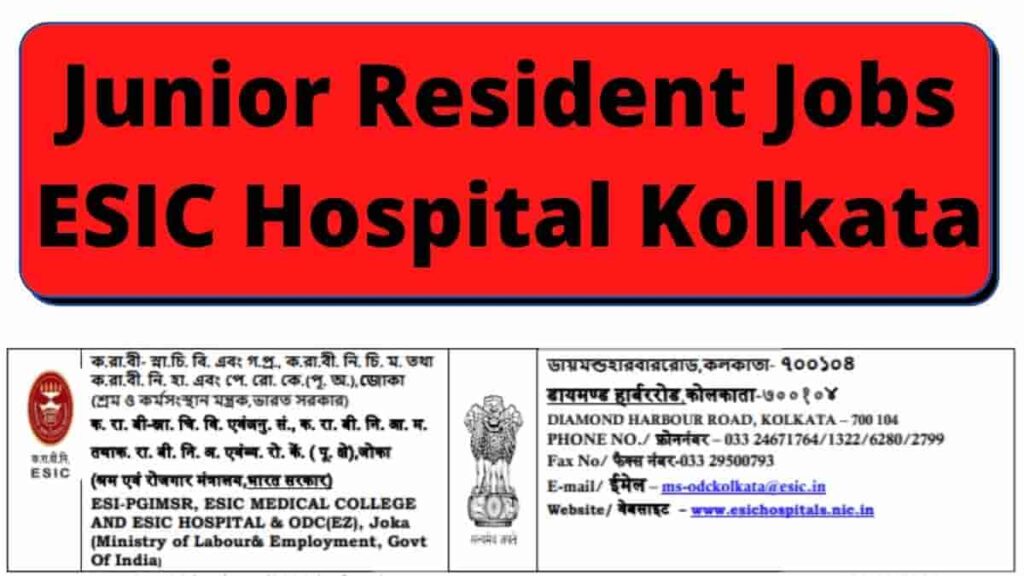 ESIC Hospital Jobs In Kolkata
A walk-in-interview will be held at ESIC Hospital & ODC (EZ), Joka future engagement of Junior Residents in ESI PGIMSR, ESIC Medical College, and ESIC Hospital & ODC (EZ), Joka in the following departments/specialties.
The engagement will be a period of three months from the date of publication of the result.
Maybe canceled/invalidated earlier without assigning any reason Candidates who have completed 3 years tenure as Junior Resident in Govt already working in any Govt.
The institution shall apply through the proper channel. The total period, however, should not exceed the maximum period of three years.
Engagement Of Junior Resident Jobs Details
| DEPARTMENT | UR | SC | ST | OBC | EWS |
| --- | --- | --- | --- | --- | --- |
| Anesthesia | 0 | 0 | 0 | 1 | 1 |
| General Medicine | 0 | 0 | 1 | 1 | 1 |
| General Surgery | 0 | 1 | 1 | 0 | 0 |
| Orthopedics | 0 | 1 | 0 | 1 | 1 |
More Explain Engagement Of Junior Resident Jobs
| | |
| --- | --- |
| US | 0 |
| SC | 2 |
| ST | 2 |
| OBC | 3 |
| EWS | 3 |
| Total | 10 |
| Date of Interview | 11/10/2021 |
| Official Site | esic.nic.in |
At the ESIC Medical College and ESIC Hospital branches across India, a variety of vacancies are being announced from time to time. In this all the classes are being selected in an honest manner and employment is being given.
Full details are clearly available on the website www.esic.nic.in. You can also find the details of the Engagement Of Junior Resident Jobs currently offered here.
Essential Educational qualification Junior Resident Jobs
Essential Educational qualification as on date mentioned above for interview for the respective Departments/Specialties
MBBS from MCI recognized Medical College/Autonomous Institutions with completion of a one-year rotatory internship as per MCI norms.
Candidates with PG qualifications from recognized Medical colleges or Institutions will be preferred
in the selection process.
MCI/State MC Registration for MBBS/PG if deemed fit
Candidates on a bond are not eligible.
Candidates need to provide a Bond clearance certificate from Appointing Authority which has completed compulsory post PG or UG Bond Service
Not exceeding 30 years as on date mentioned above for the respective Departments/Specialties(Relaxation for SC/ST/OBC/PWD as per rules).
As per 7th CPC LEVEL 10 in the PAY MATRIX pay of Rs. 56,100/- + other allowances (as admissible as per Hqrs. Instruction)
How To Apply Engagement Of Junior Resident Jobs
Step 1: For this, you first need to go to the official website. In the first part, there will appear notifications for ESIC hospital and college-related jobs in all the states. You need to download the ESIC Recruitment Kolkata Notification PDF.
Step 2: Next, there will be an application for you. In that application, you will have to fill in the information like your photo and name. You must fill in all of these clearly.
Step 3: Then, you can send it to ESIC Hospital Kolkata. Details are available on the hospital's official website. Also, the mobile number, email id, related to ESIC Hospital Kolkata is given below and you can use them.
Phone: 033 24671764/1322/6280/2799
Fax: 033 29500793
Mail: ms-odckolkata@esic.in
We hope you enjoy the extension of service. And if you have any doubts you can share them with us in the comment box below and we will provide them soon.
செய்தித் துறையில் 5 ஆண்டுகளுக்கும் மேலான அனுபவம் கொண்ட நபர், மிகவும் திறமையான எழுத்தாளர்