Chhat puja is an annual four-day festival celebrated six days after Diwali or on the sixth day of the Kartik month in the Hindu calendar. The festival is unique to the states of Bihar, Jharkhand, and Eastern Uttar Pradesh. Devotees observe a nirjala vrat fasting without water.
Chhath Puja is a folk festival that lasts four days. Today, November 10, is the third day of Chhat Puja. The ritual of Sandhya Arghya is also performed on this day, also known as Kartik Shashthi. People worship the Sun God and offer Arghya in the evening.
This Chhat Puja is also called:
Chhaith
Chhath Parva
Chhath Puja
Dala Chhath
Dala Puja
Surya Shashthi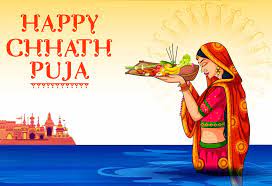 how to celebrate chhath puja?
DAY 1: Nahaye Khaye
This means After bathing Cleaning the floors and Make Their Home Pure And worship.
DAY 2: Rasiaav-Roti/Kharna/Lohanda Fasting without a single drop of water
DAY 3: Sandhya Arghya
Water and milk are offered to Sun God and the Chhathi Maiya is worshipped from a soop filled with prasad. After the worship of Sun God, Shashthi Devi songs are sung in the night and the vrat katha is heard.
DAY 4: Usha Arghya
Last day of chhat Puja the devotees offer an Arghya to the rising sun. After this, the protection of the child and the happiness of the entire family is sought from Chhatti maiyya for peace. After worship, devotees drink sharbat and raw milk, and eat a little prasad in order to break one's fast which is called Paran or Parana.
More Today
A person with more than 5 years of experience in the field of news, a very talented writer